Road map of Paraiba and Transports
Getting there in João Pessoa
The proximity of Coast of Conde with three capitals of northeastern Brazil made it an outstanding destination.
The distances of 30 km to Joao Pessoa (Paraiba), 100 km to Recife (Pernambuco) and 200 km to Natal (Rio Grande do Norte), facilitate access by car or bus for those already in the region.
It also has three airports options for those arriving from other states or countries.
Bus João Pessoa - Bus Severino Camêlo
International Airport of Joao Pessoa - President Castro Pinto
From the airport to the Costa do Conde: Map
International Airport of Recife/Guararapes - Gilberto Freyre
Distance to Jacumã: 125km
From the airport to the Costa do Conde: Map
International Airport of Natal - Augusto Severo
Distance to Jacumã: 194km
From the airport to the Coast of Conde: Map
Road map of the beaches of Paraiba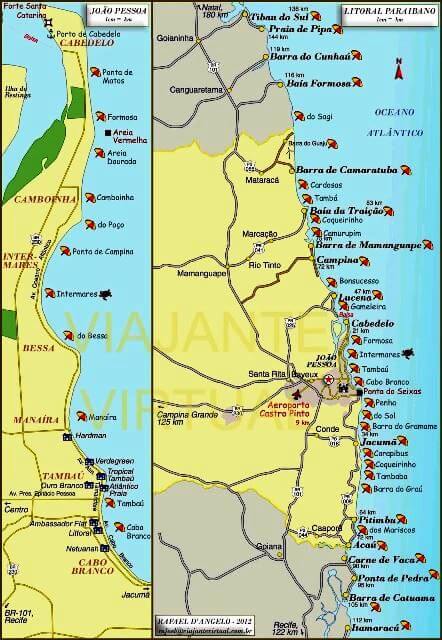 Road map of the south shore of Paraiba (Costa do Conde)

Road map of João Pessoa PB
Interactive tourist Map of Paraíba
(on phone, view horizontally)