Culture [videos]
Discover the tourist attractions and cultural tourism options in João Pessoa, Paraíba.
"My land has palm trees where sings the bird, the beaches here dazzle, imagine what does not exist. João Pessoa has places with power to enchant"
The rich tourist attractions in João Pessoa and in Paraíba offer several options for cultural tourism.
→ PHOTOS Sunset at the Aligator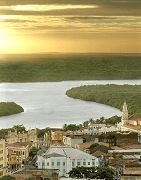 Culture [videos]