My story
Who I am?
My name is Vicente Paul, I am founder of 'Ecoturismo e Cultura' and international tourism guide (PT, EN, FR, NL).
Belgian of origin, I worked there with IT microenterprise, but I decided to exchange this security for my passion for nature, living off tourism in Paraíba. I had to start over from scratch after losing everything I had, but thanks to customer recommendations, in 10 years I served more than 1000 families.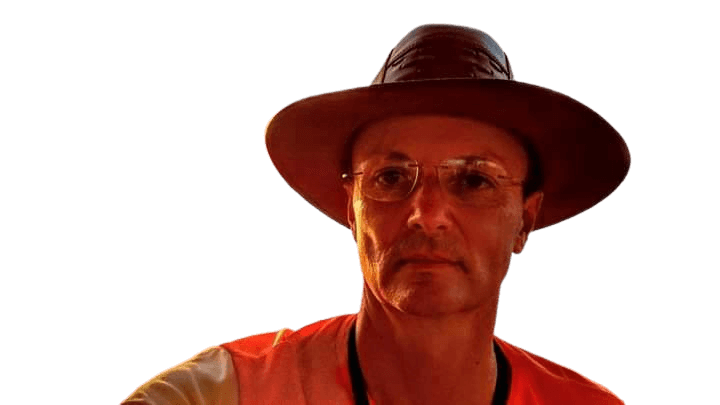 Why do I do that?
Because we only have one life, and that what matters is to lead a simple and happy life, doing what we like, following own values, without depending on anyone.
I've always been in love with nature, and beautiful nature is not lacking here. So I am an ecotourism guide, to share this passion of the dazzling coast of Paraíba with you.
Also to raise awareness on the preservation of this threatened paradise.
How do I do?
To take full advantage of the natural beauties, and to reach places still untouched with comfort and safety, I work with SUV 4x4.
What do I do?
Mainly ecotourism tours on the beaches of Paraíba. I also do cultural tours that show the local culture and the history of the place, because what we are today is the result of our past.
I look forward to sharing with you my passion for this coastline, through differentiated tours!
Our Differential
Focus on ECOTOURISM
EXCLUSIVE SUV 4x4 Tours
COMPLETE Itineraries (8h)
CUSTOM Routes
VIP Service (Professionalism and Attention)
"In a jeep you better enjoy Exclusive routes, with comfort and safety"
| | |
| --- | --- |
| ♥ OUR TOURS ARE... | |

Be part of the thousands of happy tourists!
Ecoturismo e Cultura
R. Tabelião Erinaldo Nunes Oliveira 635
Jardim Cidade Universitária, João Pessoa
Paraí­ba, 58052-285 BRASIL
About us
We have the most complete tours on the beaches: from Pipa-RN to Itamaracá-PE, these are differentiated and unmissable SUV 4x4 tours, with exclusive itineraries to unknown and charming places!
The SUV 4x4 tours offer a unique experience to enjoy a stunning coastline, passing through places where cars do not have access, with comfort and safety.
Ecotourism on the beaches, showing all the beauty of nature.
We also offer interstate tours and cultural tours in the country.
Authorization of the Ministry of Tourism: CADASTUR 15.164966.62-5
Our Mission
- Promote ECOTOURISM,
- Offer COMPLETE ITINERARIES, including valuable unknown places,
- Provide DIFFERENTIATED and personalized SERVICE, with PROFESSIONALISM.
1.- We provide differentiated and personalized experiences for couples, showing beaches and wonderful viewpoints, with all the security of a comfortable 4x4.
2.- We take care of all the details, paying close attention to you, so that you can make the most of each minute without worry.
3.- We provide an agile service through WhatsApp, giving you detailed information on our website.
Terms of Use
Privacy Policy
- We shall never disclose any personal information to

third parties

!
- The reproduction of any content is strictly prohibited (©2013-2022 Ecoturismo e Cultura | All rights reserved).
- The information transmitted is confidential and can not be transmitted to

competitors

!
Terms of Use
- Informations and conditions of the tours are available online;
- Every person doing a tour is supposed to be aware of and agree with these tour conditions;
- Some tourist informations may become outdated;
- Tours can be modified at any time; they are personalized, and depend on your pace;
- We don't responsibilize us for the weather, nor for possible technical problems.